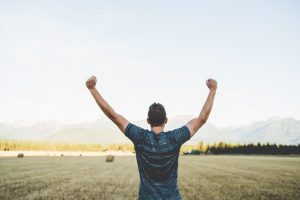 Facebook is a bit of a double edged sword isn't it?
I mean, don't get me wrong, its an amazing tool for keeping in touch with old friends & for sharing some valuable information, whilst having a bit of banter…
Plus, some of you maybe reading this via Facebook, so it can serve a purpose to spread some occasional positivity…
However, unfortunately, like most things, it's often down to people and how they use it, am I right?
This is where things can get potentially negative, argumentative, bitchy, jealous & competitive.
I try to remain in the essence of Facebook and seek the positive, most of the time……
Anyway, my point today is that I came across a mindful exercise which I'm going to try out tonight before I go to sleep, proving that Facebook can offer some positivity:
All you have to do is simply write down 5 'wins' you had today.
No matter how small, just 5 things that made you feel good.
That's it.
Easy, right?
I'm doing this (and inviting you to also do so) to re-frame my day….
It's so easy to get bogged down in all the negativity and worry of life…and we forget about the positives, we forget what we do have, we forget what we have got…..
We all do this, myself included.
So I invite you to take 5 minutes of your day, later on tonight, before bed, to re-evaluate your day…
What you thought was maybe a crappy day, may turn out different…if you can re-evaluate today and re-frame what it meant to you, maybe tomorrow will be that little bit easier?
Try it, let me know how you get on….
Until the next time,
Tristan '5 things' Buttle
P.S: if you did this every day, that would be 150 wins/positives in a month
P.P.S – that's also the equivalent of 1850 wins/positives a year.