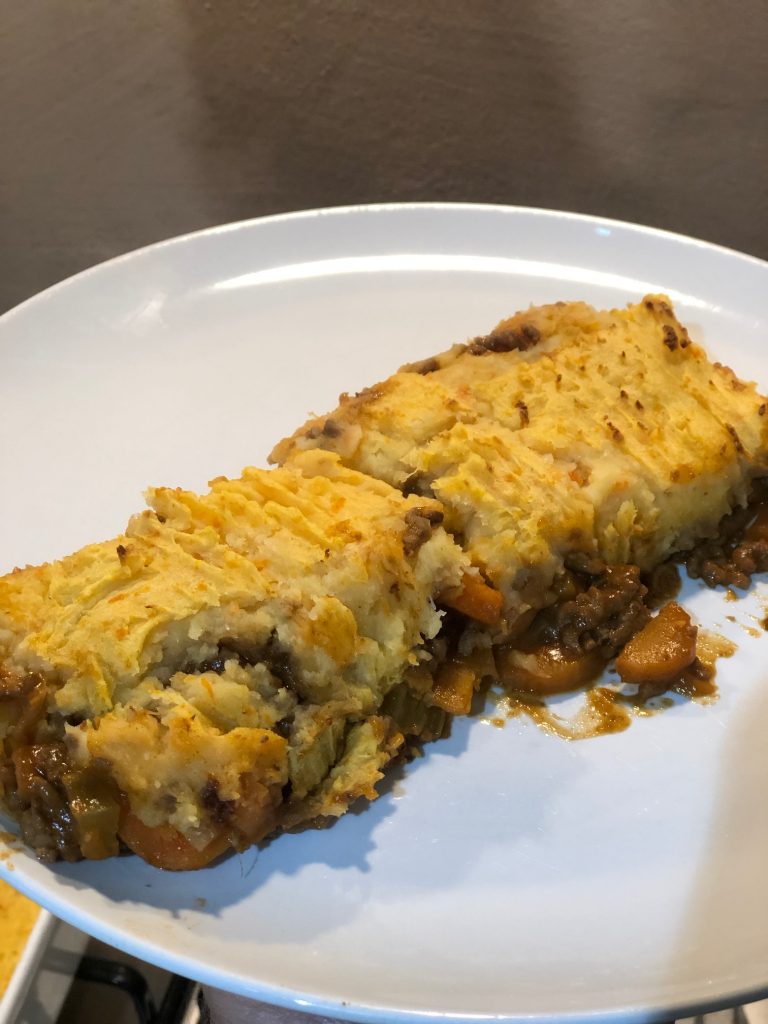 Calorically conscious cottage pie (try saying that 5 times 😂).
First time run at this, and it came out pretty good (Even if I do say so myself ha ha)!
Ingredients:
I squeeze of 'easy' garlic 
4 tbsp Worcestershire sauce
20g eat lean spreadable protein cheese
2 x 425g root vegetable mash from Tesco 


Method:
Heat oil in a large saucepan and the beef mince until browned – Set aside as it browns.

Spray some more oil into the pan, add the finely chopped onions, chopped carrots and chopped celery sticks and cook on a gentle heat until soft, about 20 mins until it all softens.

Add the squeeze of garlic, 3 tbsp plain flour and 1 tbsp tomato purée, increase the heat and cook for a few mins, then return the mince to the pan.

Add the 850ml beef stock & 4 tbsp Worcestershire sauce.

Bring to a simmer and cook, uncovered, for 45 mins. By this time the gravy should be thick and coating the meat. Check after about 30 mins – if a lot of liquid remains, increase the heat slightly to reduce the gravy a little. 

Meanwhile, bang the mash in the microwave and cook as per instructions. Once it's pinged, remove from container and chuck it all in a bowl. Stir through the spreadable cheese.

Spoon the meat into a ovenproof dish and then add the the mash on top. Heat oven to 200and cook for 25-30 mins, or until the topping is golden.

Let me know how it goes! For more tasty but simple recipes click here.

Tristan 'yes chef' Buttle.