Chicken, Chorizo & Prawn Paella…This is a simple but REALLY tasty dish! Its a great option if you are looking at feeding the family or entertaining your mates…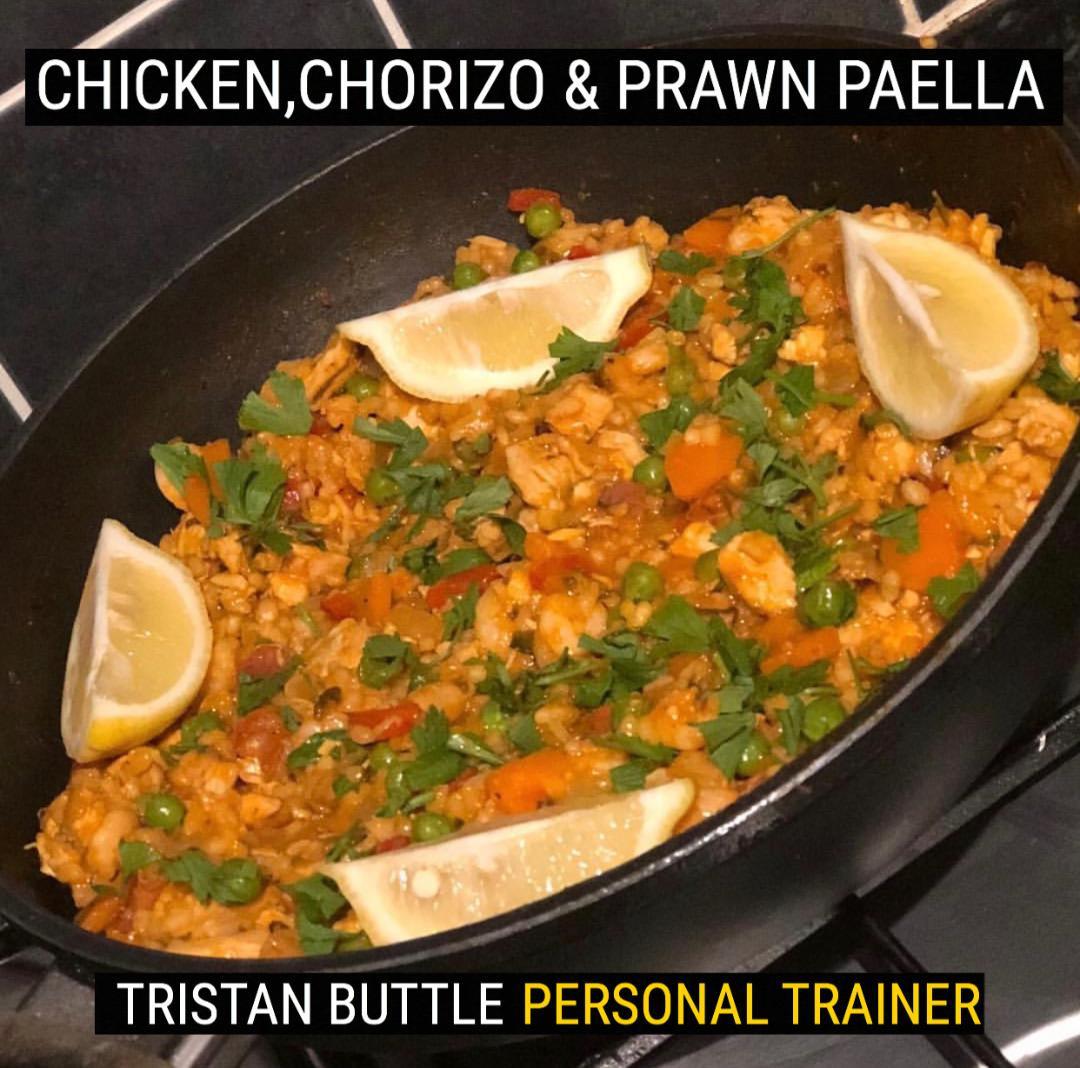 Ingredients/method:
To serve 3-4 people:
✅70g chopped chorizo.
✅500g chopped chicken breast.
✅200g x frozen peeled prawns.
✅2 cloves of chopped garlic.
✅1 x chopped onion.
✅1 x chopped carrot.
✅300g x paella riced.
✅100g x frozen peas.
✅15g fresh flat-leaf parsley- chop the stalks & the leaves.
✅1 x teaspoon sweet smoked paprika.
✅1 x sliced red pepper.
✅1 x tablespoon tomato purée.
✅1 x chicken stock cube.
✅1 x lemon.
✅Salt & pepper.
Method:
Heat up a large wok, & add your cooking oil of choice. Then add the chopped garlic, onion, carrot, parsley stalks, chorizo, chicken, red pepper & paprika, & fry for around 5 minutes, stirring & mixing continually.
Stir through the tomato purée & add the chicken stock cube. Add the paella rice & stir for 5 minutes.
Add 750ml of boiling water and add a pinch of sea salt and black pepper to the mix. Bring to the boil, then reduce to a simmer for 15 minutes.
Add the peas & prawns, and cook for a further 5 minutes.
Grab the parsley leaves & chuck them over the paella. Finally, slice the lemon into 4 quarter wedges & add on the side for squeezing over, and you are done!
Try it, let me know what you think!
Tristan 'gordon' Buttle.